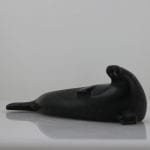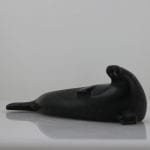 Seal by Caroline Kudlurok
$190.00
SOLD
Artist:                    Caroline Kudlurok
Community:          Sanikiluaq
Year:                       1974
Media:                    Argillite
Additional information
| | |
| --- | --- |
| Weight | 0.5 kg |
| Dimensions | 7 × 2 × 2.5 in |
Bio Caroline Kudlurok
CAROLINE KUDLUROK (KAULOLOOK)
Born: 1920 Female E9-128
Resides: Sanikiluaq
Sculpture
Caroline's daughter, Mary Iqaluq, is a carver.
EXHIBITIONS:
August – November 1978
The Zazelenchuk Collection of Eskimo Art
Winnipeg Art Gallery
Winnipeg, Manitoba
(illustrated catalogue)
September – October 19
La deesse inuite de la mer/The Inuit Sea Goddess
Musee des beaux-arts de Montreal
Montreal, Quebec
(tour)
(illustrated catalogue)
November – December 1980
Belcher Island Sculpture
Robertson Galleries
Ottawa, Ontario
April – May 1981 Sculpture from Belcher Islands
Images of the North
San Francisco, California, U.S.A.
May 1981 Belcher Island Community Sculpture
The Raven Gallery
Minneapolis, Minnesota, U.S.A.
COLLECTIONS:
Winnipeg Art Gallery, Winnipeg, Manitoba
SELECTED REFERENCES:
Swinton, George
SCULPTURE OF THE ESKIMO. Toronto: McClelland and Stewart, 1972.
Winnipeg Art Gallery
THE ZAZELENCHUK COLLECTION OF ESKIMO ART. Winnipeg: The Winnipeg Art Gallery, 1978.
(c) Inuit Art Section, INAC 1995
You may also like…
Alina Tungilik – Man and Seals

$

375.00

Bart Hanna — Seal carving

$

600.00

Lucassie Kenuajuak – Seal

$

240.00