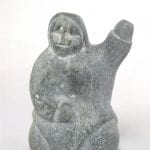 Toona Iqulik – Inuk
$425.00

Artist: Toona Iqulik
Community: Baker Lake
Medium: Basalt stone
Date: 1999
Additional information
| | |
| --- | --- |
| Weight | 0.5 kg |
| Dimensions | 3 × 2 × 4.5 in |
About the Artist Toona Iqulik
Toona was born in August, 1935, on the mighty Kazan River that flows northward before emptying into Baker Lake.
Toona recalled living with his mother, Bernadette, father, Kamalee, and three siblings during the 1950's when it was very difficult to catch caribou. His family survived on the Barrenlands on fish and what few caribou they managed to catch.
In 1958 Toona moved to Baker Lake. One year later he married Sara, from Beverly Lake, west of the community. In 1960 the couple relocated to Rankin Inlet where Toona's parents resided. It was there that Toona began to carve.
The Iqulik family moved back to Baker Lake in 1969. Toona continues to carve, now into his 50th year. His two sons, Johnny and Louie and their daughter, Camille are also carvers.