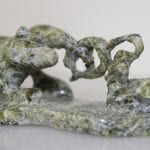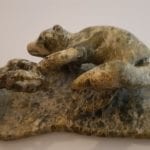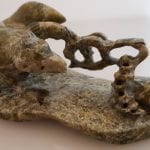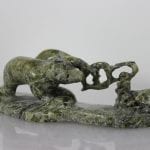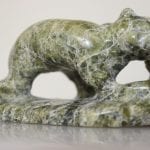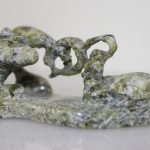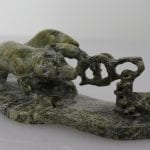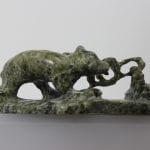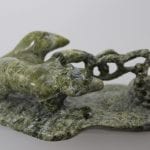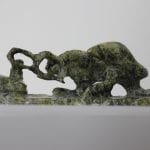 Trapped Fox by Pootoogook Jaw
$280.00
Artist:                   Pootoogook Jaw
Community:        Kinngait — Cape Dorset
Year:                      2016
Media:                   Serpentine
Additional information
| | |
| --- | --- |
| Weight | 0.3 kg |
| Dimensions | 6.75 × 2.5 × 2 in |
Biography Pootoogook Jaw
Pootoogook Jaw
Medium: SCULPTURE, CARVING,STONE
Community: Kinngait (Cape Dorset), NU
Date of Birth: 09 February 1959
Kinngait, NU
Pootoogook Jaw was born near Kinngait (Cape Dorset), NU in 1959.
One of the three sculptor sons of master carver Joe Jaw, [Kingwatsiak (King) Jaw, Mathew Saviadjuk] Pootoogook has been carving from an early age.
He uses a wide range of subjects in his work, and his style varies depending on the nature of the stone that he is dealing with. At times, his sculptures have multiple figures interacting and are almost obsessively detailed; at other times, particularly when working with very hard stones, his work is simpler and more iconic. His quiet sense of humour often surfaces in his work.
Jaw has been active in mentoring younger generations of carvers and is supportive greater interdependence and self-determination among Inuit artists.
He is involved in sharing his knowledge with younger carvers and hopes to keep the artistry alive in future generations. His son Ottokie Jaw is also a carver and a musician and his nephew Noah Jaw is a full time carver as well.
Pootoogook Jaw's work has been exhibited in Canada and Europe.
His work is held in the collections of the Musee d'art Inuit Brousseau and the Museum of Anthropology. Jaw has been part of several exhibitions in Canada and internationally, and has been featured in the Inuit Art Quarterly.
PUBLICATIONS
News Roundup: MAC Montreal Renovation Delays, Fallout from Ontario Culture Cuts and More June 27, 2019. Canadian Art
Tuvaq: Inuit Art and the Modern World. Winter 2010. Susan Gustavison
Tuvaq: Inuit Art and the Modern World. 2010. Ken Mantel and Heather Lane
EXHIBITIONS
Ohito Ashoona and Pootoogook Jaw Sept – Oct 2012
Albers Gallery
Small Treasures
Jan – Feb 2011
Inuit Gallery of Vancouver
Small Sculptures by Great Artists December 2010
Feheley Fine Arts
PUBLIC COLLECTIONS
Museum of Anthropology at the University of British Columbia Vancouver, BC, Canada
You may also like…
Polar Bear by Pootoogook Jaw

$

80.00

Musk Ox – Pootoogook Jaw

$

280.00

Pootoogook Jaw Drummer

$

925.00